Article: The Yeezy Foam Runner: A Comprehensive Review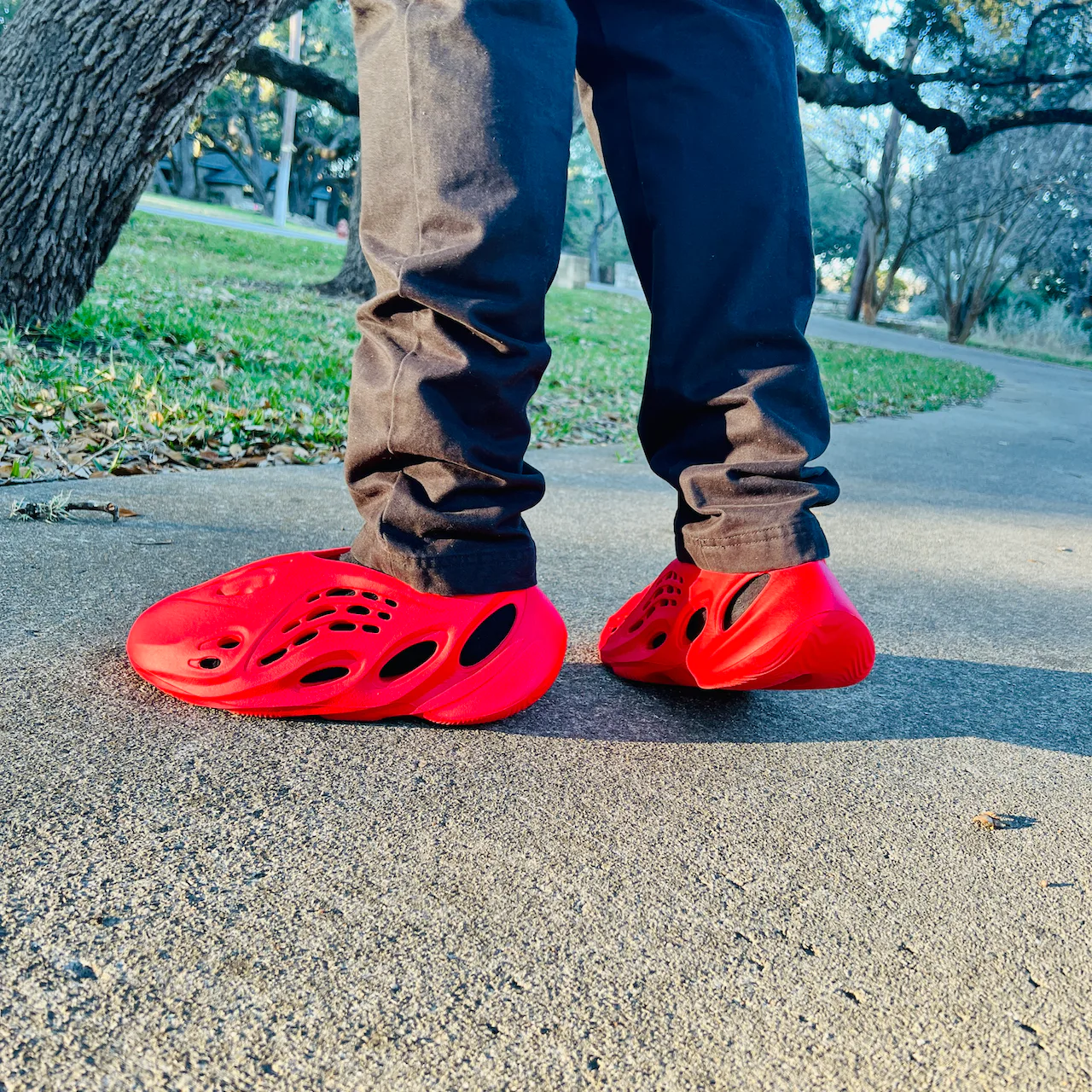 The Yeezy Foam Runner: A Comprehensive Review
Welcome to the most comprehensive review of the Yeezy Foam Runner (ahem because everyone compares us to it)! If you're a sneakerhead, you've probably heard of this eco-friendly footwear from the Yeezy brand. But did you know that the Foam Runner is more than just a pair of shoes? In this article, we'll take a closer look at the history, design, comfort, and sustainability features of the Foam Runner. So sit back, relax, and let's dive into the world of Yeezy!
A Brief History of Yeezy Footwear
The Yeezy brand started in 2009 as a collaboration between rapper Kanye West and Nike. The first Yeezy sneakers were a series of Air Yeezy shoes that quickly became collector's items. The Air Yeezy 1, released in 2009, featured a unique design with a glow-in-the-dark sole and a strap across the forefoot. The Air Yeezy 2, released in 2012, was even more sought-after, with its reptilian-inspired design and limited release.
However, despite the success of the Air Yeezy line, Kanye had creative differences with Nike and eventually left the company. He then teamed up with Adidas in 2013 to launch the Yeezy Boost 750, which set off a new wave of hype.
The Birth of the Yeezy Brand
Since then, the Yeezy brand has released several collections of sneakers, each more popular than the last. Kanye's vision for the Yeezy brand is to create affordable yet high-quality footwear that combines style and functionality. He has also expanded the Yeezy brand beyond sneakers, with clothing and accessories that reflect his unique aesthetic.
One of the most notable Yeezy releases is the Yeezy Boost 350, which debuted in 2015. The low-top sneaker features a Primeknit upper and a Boost sole, providing both comfort and style. The Yeezy Boost 350 has been released in a variety of colorways, including the popular "Zebra" and "Beluga" designs.
The Evolution of Yeezy Sneakers
The Yeezy brand has come a long way since its inception. While the earlier Yeezy sneakers were known for their bold colorways and avant-garde designs, the Yeezy Foam Runner takes a minimalist approach with its sleek silhouette and neutral color palette. The Foam Runner, made from a unique foam material, is both lightweight and durable, making it perfect for everyday wear.
Another recent Yeezy release is the Yeezy Boost 380, which features a unique pattern on the upper and a translucent Boost sole. The Yeezy Boost 380 has been released in several colorways, including the "Alien" and "Mist" designs.
Overall, the Yeezy brand continues to push the boundaries of sneaker design and innovation. With each new release, Kanye and Adidas prove that they are a force to be reckoned with in the world of footwear.
Design and Aesthetics
The Yeezy Foam Runner is a revolutionary sneaker that took the world by storm. Its unique design and aesthetics have made it one of the most sought-after sneakers in recent years. The Foam Runner is not just a sneaker, it is a statement piece that sets the wearer apart from the crowd.
The Unique Silhouette
The signature feature of the Yeezy Foam Runner is its one-piece molded foam upper. This design allows the sneaker to curve seamlessly around the foot, providing a snug and comfortable fit. The foam material used in the upper is not only lightweight and flexible but also incredibly breathable, making it perfect for all-day wear.
The unique silhouette of the Foam Runner is not only aesthetically pleasing but also functional. The design allows for maximum mobility and flexibility, making it an ideal choice for athletes and fitness enthusiasts.
Material and Construction
The Yeezy Foam Runner is made of a proprietary formulation of EVA foam that is derived from algae. This innovative material has low environmental impact, making it a sustainable and eco-friendly choice. The manufacturing process also leaves behind fewer emissions and waste than traditional sneaker materials.
The Foam Runner's construction is also noteworthy. The sneaker is made using an injection-molding process, which ensures that each sneaker is identical in shape and size. This process also allows for the creation of intricate designs and details that would be impossible to achieve using traditional sneaker manufacturing methods.
Colorways and Collaborations
The Yeezy Foam Runner comes in several understated colorways, including sand, mist, and mineral blue. Each colorway is designed to complement a wide range of outfits and styles. The Foam Runner Sand was the first colorway to drop, and it sold out within minutes of its release.
Kanye West, the creator of the Yeezy brand, has also collaborated with other brands to create limited edition Foam Runners with unique designs. One of the most notable collaborations was with Crocs, where Kanye created a limited edition Foam Runner with a Crocs-inspired design. The collaboration was a huge success, with the limited edition sneaker selling out within hours of its release.
Kanye has also collaborated with Gap to create a limited edition Yeezy Gap line, which includes a unique colorway of the Foam Runner. The collaboration is a testament to the Foam Runner's popularity and its ability to transcend traditional sneaker culture.
Comfort and Fit
When it comes to footwear, comfort and fit are two of the most important factors to consider. The Yeezy Foam Runner is designed with both of these in mind, ensuring that wearers can enjoy a comfortable and snug fit.
Cushioning and Support
Another important aspect of any shoe is the level of cushioning and support it provides. The Yeezy Foam Runner is made from EVA foam material, which is known for its excellent shock absorption and pressure relief properties.
This means that your feet will be well-cushioned and supported, even if you're on your feet for extended periods of time. The foam material conforms to the shape of your foot, providing a custom fit that's both comfortable and secure.
Whether you're running errands or going for a long walk, the Yeezy Foam Runner will keep your feet feeling great.
Breathability and Ventilation
No one likes sweaty feet, especially in the summer months when temperatures soar. That's why the Yeezy Foam Runner is designed to be highly breathable and ventilated.
The one-piece molded construction eliminates the need for multiple layers of material, which can restrict airflow and trap heat. Instead, the foam material allows for optimal ventilation, keeping your feet cool and sweat-free.
Whether you're out for a jog or just hanging out with friends, you can count on the Yeezy Foam Runner to keep your feet feeling fresh and comfortable.
Sustainability and Eco-Friendliness
Sustainability and eco-friendliness have become increasingly important in the fashion industry in recent years, as consumers become more conscious of the impact their purchases have on the environment. The Yeezy Foam Runner is a perfect example of a sustainable sneaker that combines style and environmental responsibility.
The Use of Algae Foam
The use of algae foam in the Yeezy Foam Runner is a major selling point for the shoe. Algae foam is a sustainable material that is made from renewable resources, unlike traditional sneaker materials that are often made from non-renewable resources like fossil fuels. Algae foam is also biodegradable, which means it can break down naturally in the environment without harming wildlife or ecosystems.
Not only is algae foam sustainable and eco-friendly, but it is also incredibly comfortable. The foam molds to the shape of the wearer's foot, providing a custom fit that is both supportive and cozy.
Comparing to Other Sustainable Sneakers
The Yeezy Foam Runner is just one of many sustainable sneakers on the market. Other brands, including Allbirds and Veja, also use eco-friendly materials in their products. However, the Yeezy Foam Runner's unique design, comfort, and popularity make it a standout choice for those looking to make a sustainable fashion statement.
When compared to other sustainable sneakers, the Yeezy Foam Runner stands out for its innovative use of algae foam and its commitment to sustainability. By choosing the Yeezy Foam Runner, consumers can make a fashion statement while also making a positive impact on the environment.
Conclusion
The Yeezy Foam Runner is more than just a sneaker; it's a sustainable and stylish statement piece. From its innovative use of algae foam to its minimalist design, the Foam Runner is a testament to Yeezy's commitment to sustainability and fashion.